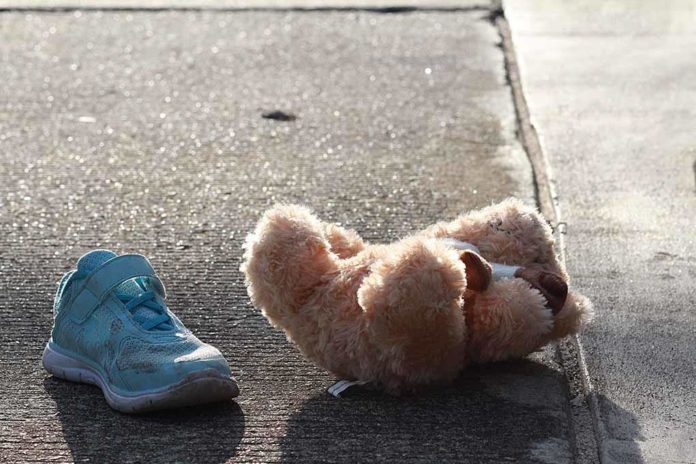 (DailyFix.org) – The case of 7-year-old Harmony Montgomery continues to grow more perplexing by the day. In November, the young girl's noncustodial biological mother notified police that she hadn't seen her daughter in nearly six months. Manchester, New Hampshire police sprung into action. They opened a 24-hour tip line, and initially offered a $6,000 reward that's grown to $140,000 for anyone who helps police find the young girl. Gov. Chris Sununu (R) has even pleaded for the public's help.
Things turned strange when police said she changed her story. Kayla Montgomery said the last time she saw her then-5-year-old child was really Easter 2019. Police charged the missing girl's father, Mr. Adam Montgomery, for second-degree assault, interfering with custody, and child endangerment. The last time anyone saw Harmony was in July 2019. Now, Adam Montgomery is a suspect in cold-case murder in Massachusetts.
Father Suspected in Separate Murder Case
On February 10, 2008, an assailant shot Darlin Guzman to death outside a Massachusetts convenience store. Lynn City police said an unknown suspect shot Guzman multiple times. The convenience store owner told local media that his employees observed an argument between two men in the parking lot moments before the incident with Guzman. EMTs transported him to Salem Hospital, where doctors pronounced him dead.
Investigators are supposedly looking into Montgomery's connection with the murder. However, the Essex County District Attorney's Office isn't commenting about the case.
Long Criminal Rap Sheet
In addition to being in custody as a suspect in his daughter's disappearance, Montgomery appears to have a lengthy criminal history. In 2014, court records showed that Adam Montgomery accepted a plea bargain and served prison time for shooting a drug dealer in the face. Records show that the drug dealer still managed to beat him, take Montgomery's gun, and shoot him in return.
Before Montgomery's arrest in connection with Harmony's disappearance, his mother-in-law filed a protection order after Adam allegedly appeared at her home with a knife. Harmony's mother was hiding following the couple's breakup, and Adam was trying to find his estranged wife.
Regarding the case against Adam in relation to his missing daughter, in July 2019, Harmony's great uncle told police he witnessed the young girl with a black eye. Adam allegedly confessed to hitting Harmony after seeing his daughter put her hand over her younger brother's mouth to stop him from crying. The uncle told police he notified state child protective services (CPS).
Additionally, Adam Montgomery's brother told authorities that he was often very ill-tempered and short with Harmony.
As new revelations come to light about Harmony's case, stay tuned.